Using VoiceThread for Music Classes
This is a guest post by Music Educator and VoiceThreader, Erika Safford.
VoiceThread is an amazing resource for the music classroom at any level. I frequently use VoiceThread in instrument instruction in my general/vocal music classroom. It allows me to have various groups at different levels learning and testing on different pieces at the same time. For beginners, I post a video of myself giving instruction on how to play the piece, a copy of the sheet music, and any accompaniment tracks that they can use. For more advanced students, I post just the sheet music, accompaniments, and comment anything they need to know about the piece. I can also move my mouse and write on the score to show students how to follow along with the score in more complex pieces. Students can then post their playing test when they feel they are ready to be evaluated or need feedback.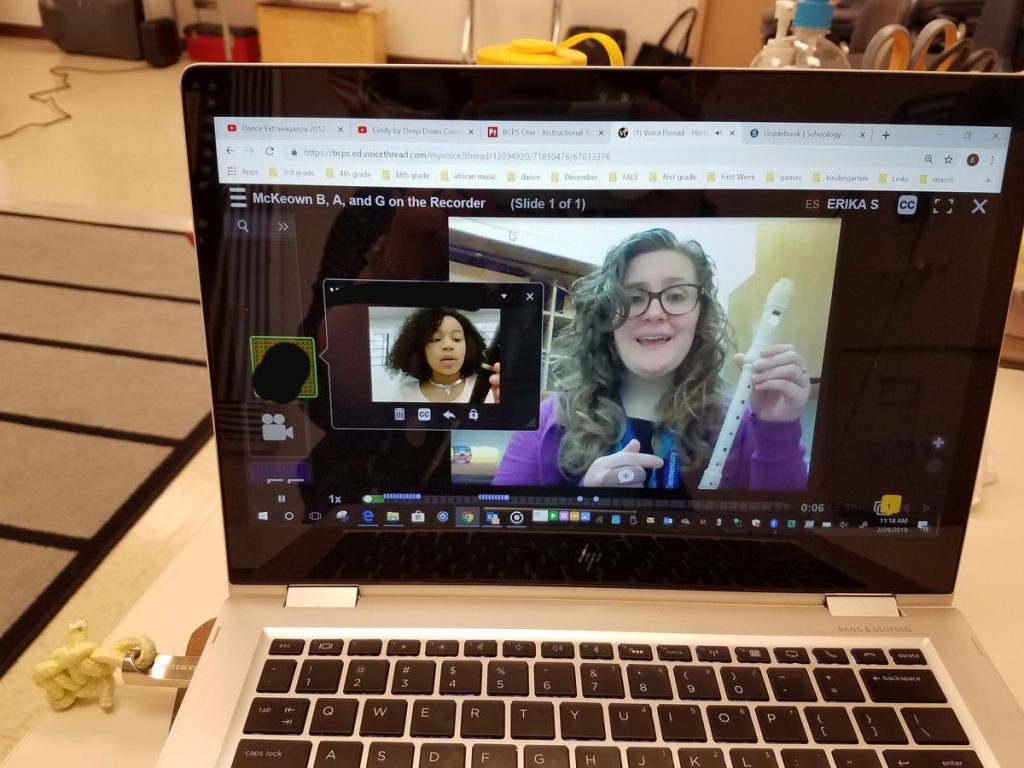 The ability to have students record playing tests has made my classroom management easier. Students tend to be better prepared for a playing test when they have had the opportunity to watch a video of their performance, evaluate it, and possibly re-do it before I see it. Also, an entire class can play at the same time, rather than having to wait for me to be available. They can then move on to another piece using the instructional video I posted. I can grade the playing tests later and leave a text comment to give feedback. I can also post a video comment further instruction if needed. I am then free during class to manage behaviors and work with a small group, or individuals who need help.
Recorded playing tests, instead of live performance playing tests, allow me to create a digital portfolio for each student by downloading their video comment from the thread. It also gives me a performance to share with students, parents, and other stakeholders if there is any confusion about my grading. Students can also mentor each other and learn how to make appropriate comments and critiques of performances by replying to each other's comments.
I also use VoiceThread for clubs and activities after school to check in with students between rehearsals. I have used it with All-County Chorus to provide students with materials to use a home and if they have a webcam and access to the internet, they can check in with me, and get feedback on their preparation. For the musical, I can post choreography for students to practice in between rehearsals. I have not yet used VoiceThread for a lesson with a substitute teacher but will definitely use it in the future to keep valuable instruction continuing even when I am not present.
VoiceThread is an invaluable resource in my classroom. I wish I had had access to it when I was conducting large ensembles in middle and high school to structure sectionals and for singing tests, part tests/checks, and to allow students to practice singing against another part, using the video. I cannot suggest enough that other music teachers use this resource in their classroom and am excited to find even more ways to utilize the application.
---
Erika Safford is a vocal music teacher and enthusiast. She currently teaches part-time at Lyons Mill Elementary School for Baltimore County Public Schools and is a mom to her two toddlers. She has also taught in other counties in Maryland and Indiana. She has taught elementary vocal/general music, middle and high school choir, world music, music theory, piano, theatre, and Spanish. She regularly performs in a variety of choirs, musicals, and as a soloist and has recently started calling square dances. You can follow Erika @SaffordMusic on Twitter.